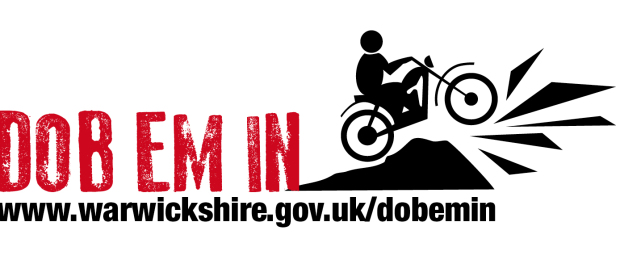 If your area suffers with nuisance motorbikes WCC Community Safety Team are asking you to report to the police on 101 or by completing an online form via the Warwickshire County Council website.
Nuisance motorbikes are a cause of concern for a number of reasons; the noise that is created disturbs people in their homes and gardens, the riders have no regard for other peoples safety or indeed their own safety with a large number of offenders not wearing the appropriate safety equipment.
There are a number of actions that can and are used against these riders, but we need YOUR help to maximise resources and direct actions to specific locations and/or pepple.
If possible provide call handlers on 101 with a good description of the rider and the bike, giving a registration number if it can be seen along with an address of where the bike comes from and goes to (if known). Always ask for an incident number so you know it has been recorded.
Alternatively, you can complete an anonymous report that will go directly to the Community Safety Team and actioned accordingly. This form should contain as much detail as possible about the nuisance, the riders, bikes and any vehicles used to transport them. We need this information to build up a picture of the issues and work with our Community Safety Partners to take appropriate action.
Help us to reduce the distress caused by these nuisance motorbikes.